Representatives from an Essex manufacturer received a surprise visit from none other than Prime Minister David Cameron during a recent trade show.
Simon Gill, Business Development Manager at Halstead precision-engineering company Maycast-Nokes and his project engineer colleague Mike Poyner received the surprise visit from Mr Cameron when exhibiting in the trade section of the Farnborough International Airshow.
Mr Gill said: "The Farnborough International Airshow is always a fantastic event, but what happened this time was quite surreal, the visit from the Prime Minister was completely out of the blue.
"We were happily exhibiting at the event, when we were approached by two girls who asked if we would mind if they brought a VIP to our stand. About 20 minutes later the two girls returned and said the Prime Minister would be with us in about two minutes time; we couldn't quite believe what we had just been told.
"Mr Cameron was very interested in our work, he spent around five minutes with us discussing our business, what we do, our exports and he was particularly keen to hear about our apprenticeship programme, which we run every year to provide young people with a gateway into the world of engineering, teaching them the necessary skills for lifelong careers."
Maycast-Nokes is dedicated to the manufacture of high quality precision castings. The company employs 120 people at its site in Halstead, Essex and is one of the most comprehensive single site suppliers of non-ferrous castings in the UK.
Maycast-Nokes run an apprenticeship scheme where it offers places to two to four school or college leavers each year. The scheme leads to industry recognised qualifications and many of the apprentices have gone on to enjoy lasting careers at the Halstead company. The company has just completed its recruiting process for 2014, but will have further opportunities in 2015. Telephone 01787 477021 for more information.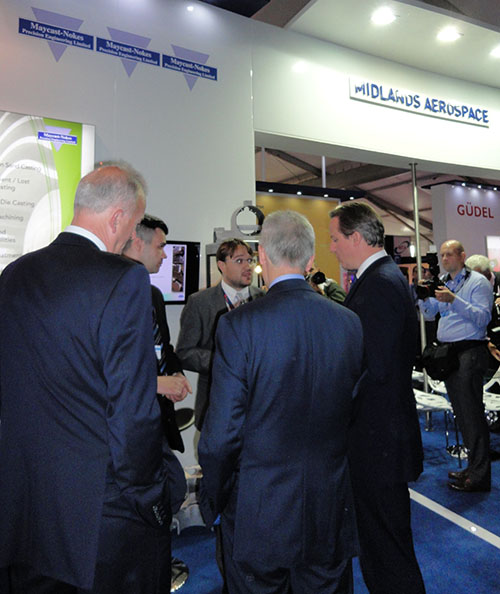 Simon Gill and Mike Poyner talking to the Prime Minister at the Farnborough Airshow.