Two Halstead factory workers are to be rewarded after clocking up a combined 90 years of service.
When Dennis Bryant joined precision engineering firm Maycast-Nokes (then Evans Foundry) in 1965 Harold Wilson was Prime Minister, Armchair Theatre was a popular TV programme and England had never won the football world cup.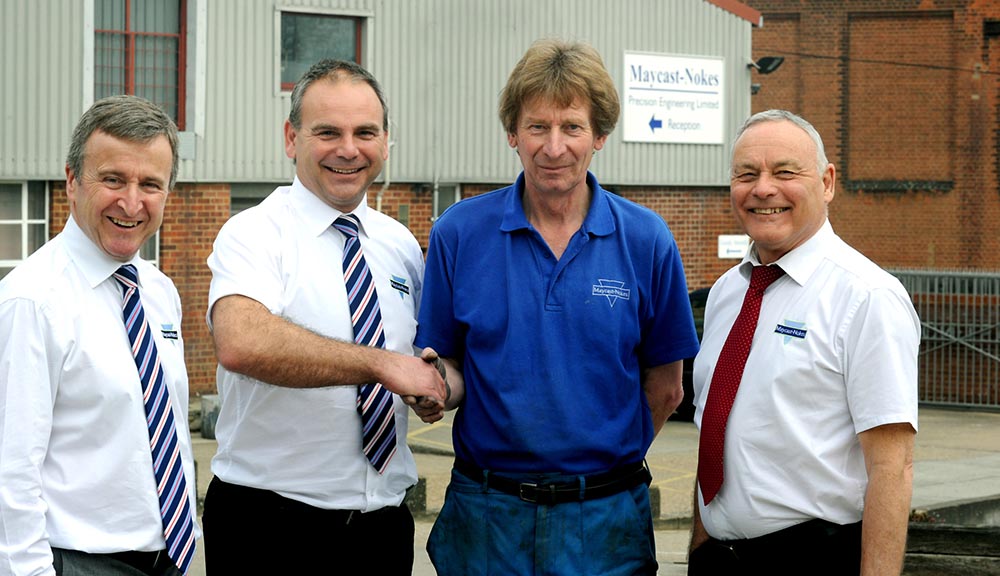 When Stephen Wolton joined the company 10 years later Harold Wilson had been replaced by Edward Heath, Benny Hill was the UK's favourite comedian and the England football team were bidding to retain the world cup they had won in 1966.
Mr Bryant, who lives in Halstead, was just 15, when he joined the company. He said: "I have worked here for 50 years and I have really enjoyed it. I started as a labourer, completed an apprenticeship and then worked in the foundry for the next 38 years. For the past four years I have been working in the investment casting side of the business. Some of the work is very hard and it has certainly kept me fit, which is a bonus."
In 1975, Mr Wolton, 67, joined the company at its Hitchin site in Hertfordshire, before moving to Halstead in 1998.
"I have just really enjoyed my job and my time here. I work as maintenance fitter so there is something different to do every day. Over the years I have made many friends and met some lovely people, so I have never had any regrets."
Mr Wolton is set to retire later this year, although Mr Bryant has decided to continue for at least a little while longer. Both are soon to receive long service awards from the company.
Managing Director Steve Wallings, said: "I would like to say both thank you and congratulations to Dennis and Stephen for remaining so loyal to the company; their dedication is very much appreciated.
"Both men show how we can offer life-long job opportunities and how we are such a good company to work for, which is underlined by the fact 20% of our workforce has been here for more than 20 years."